I've been raving on my Tumblr profile about this Candy Cutie I've been crushing on. I've been following him on Twitter for a couple of months now, tweeting him like almost every day and I bet he's aware of how much a fan girl I really am.
His name is Javy Gil, older of ABS-CBN star, Enrique Gil (Good Vibes, Mula sa Puso). They're both dashing and good looking, and just an added fact, they are both ENRIQUE. People find it weird, but it's just that I got attracted to the non-showbiz Enrique.
Javy is just so nice. He's not boastful. Definitely not a prat and a jerk.
There was this time that I went to Pergola at BF Homes to get Frutti Froyo and the place reminded me of him. Of course, I had to tweet that! He tweeted back when I left the place, only to find out he was on the way to Pergola as well! My heart sank, but he tweeted this: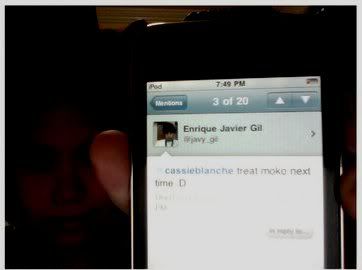 That tweet made me extremely happy. I sure wish I could catch him at Frutti Froyo soon! See? I told you all that he was nice! But, there are some people who would want to put him down by comparing him to his brother. Why can't they all just get a life? Sheesh, haters gonna hate. They'll stay that way. Javy does not need to be on television just to prove that he's awesome.
I for one, will always be Javy Gil's fan, whether he's a celebrity or not.
Avec amour,
Cassie Blanche